You have the power to specify what the receiver will think the message is from. You can put ANY mobile number or alphanumeric character in the "From" field when sending a message.
You can send SMS messages to almost every mobile phone provider in the world and can be received by any phone which is capable of receiving SMS messages.
You can send a prank text message to your mate from the girl he likes... You can send an anonymous SMS from your boss to your colleague congratulating them on their promotion...
Got an Android phone?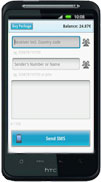 Download our oficial app. from android market

Don`t have an account?
Creating account with us is easy. What you are waitng for register and try it, it`s free. Get your friends before they got you.
Worldwide coverage
Our mobile operators list is huge. We cover 99% of the world`s mobile operator networks.